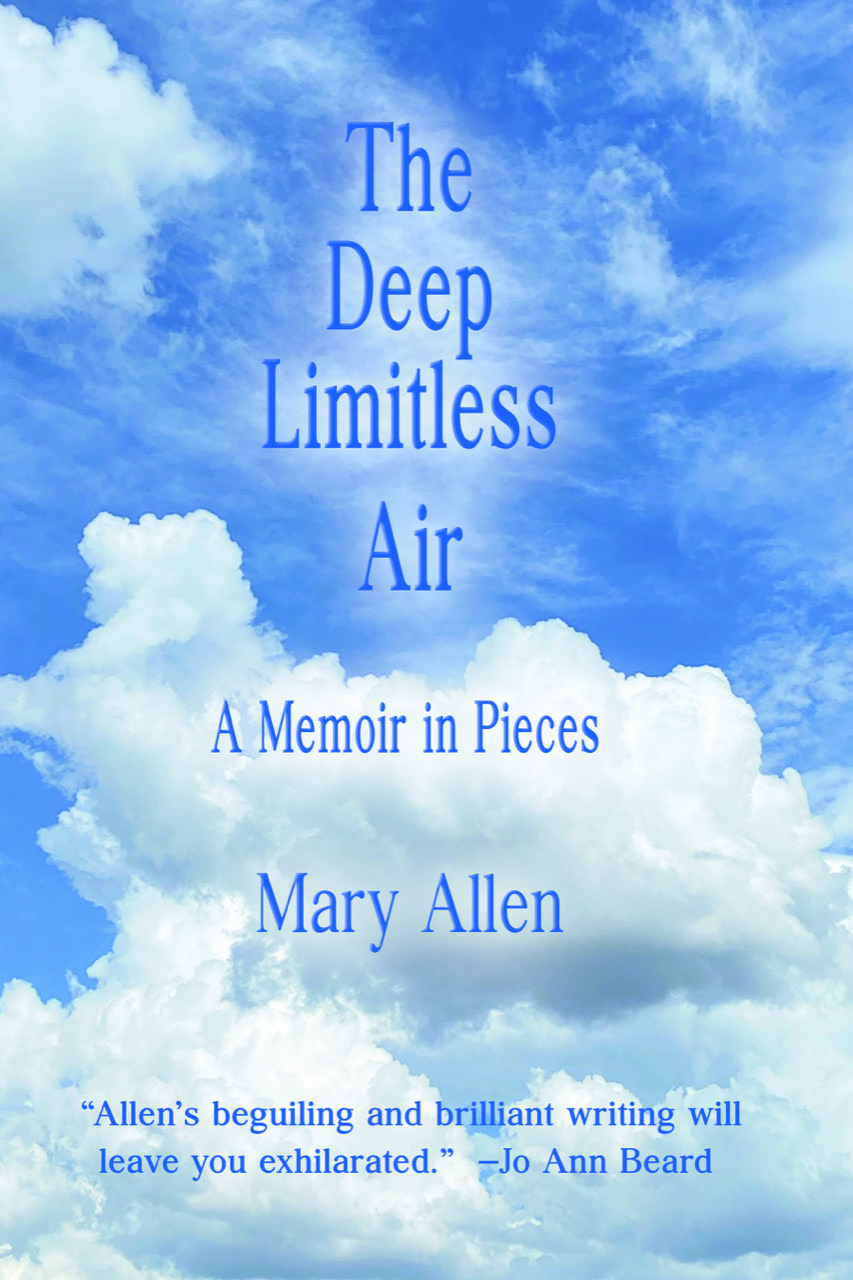 THE DEEP LIMITLESS AIR: A MEMOIR IN PIECES is a collection of interconnected personal essays by Mary Allen, author of The Rooms of Heaven (Alfred A. Knopf and Vintage Books). Written in a voice both humorous and perceptive, with earned wisdom and light-handed spirituality, Allen's essays are both readable and relatable. She poses and answers narrative questions large and small—Will she and her father get those honeybees into their new hive while her rageful mother watches from the house? Is someone like the Wizard of Oz orchestrating her recurring dreams? How will she overcome her fears of flying and public speaking to give a speech in New York? And what is that pair of purple panties doing in the middle of the Mojave Desert where she is completely lost?
THE DEEP LIMITLESS AIR reveals a storyteller so appealing she instantly feels like a new best friend. Jo Ann Beard, author of Festival Days, says, "Simply put, read this book."
Mary Allen is the author of The Deep Limitless Air: A Memoir in Pieces, published in May 2022 by Blue Light Press. Her literary memoir, The Rooms of Heaven, was published by Alfred A. Knopf and Vintage Books. She is the recipient of a National Endowment for the Arts creative writing fellowship and has published short work on the Psychology Today website and in Poets and Writers, Tiferet, Real Simple, Library Journal, The Chaos, CNN Online, and in the anthology If I Don't Make It, I Love You: Survivors in the Aftermath of School Shootings. She has an MFA from the Iowa Writers' Workshop and has taught in the University of Iowa's nonfiction writing MFA program and the Iowa Summer Writing Festival at the University of Iowa. She currently makes a living as a writing coach and lives in Iowa City, Iowa.
Mary Allen's themes are spiritual and psychological healing, love, the nature of life and death, and the ways our states of consciousness intersect with our experience of reality. Her writing — and broad range of writing topics — reflect her belief that the personal and the practical, the painful and the numinous, the spiritual and the ordinary are all blended together in our lives and cannot be separated from one another without at least part of the truth being lost.
Mary Allen has been featured on Largehearted Boy, a website and blog that combines writing and music in uniquely interesting ways. Authors create playlists of songs that resonate with their writing and write 'book notes' describing how the music connects to their writing. Click here to visit the site and read Mary's book notes.
Click here to read Mary Allen's essay about the shootings in the Physics Department at the University of Iowa, published in the Little Village on the thirtieth anniversary of the shootings.
Click Here to read an award-winning essay, At the Monastery, by Mary Allen, which won first prize in Tiferet Magazine's spiritual writing contest in 2013. Another essay by Mary Allen, The Deep Limitless Air, was one of two finalists in Tiferet's spiritual writing contest in 2019.
Visit CNN Online for a piece by Mary Allen on being the daughter of a mother with maternal mental illness.